Local plan review
Local Plan review - issues and options consultation
Help us review your Local Plan
The Local Plan sets out planning policies and proposals for new development to make sure the Rugby borough is a great place to live, work and do business.
It is prepared in consultation with residents, businesses and other stakeholders.
Councils must review their Local Plan every five years. Rugby borough's current plan was approved in 2019.
The Local Plan defines many things, including:
where housing can be built
which land can be used to provide employment
how vital infrastructure needs can be met, such as schools, green spaces, health care facilities and transport links
View documents supporting the consultation on the issues and options
Documents informing the issues and options
The borough's current Local Plan
Things we are reviewing
how we can regenerate Rugby town centre
where new housing developments can take place
additional land for employment uses
meeting the pitch needs of gypsies and travellers
New things we are considering
embedding climate and nature policies throughout the plan
driving up the quality of development with a new design code
limiting concentrations of Houses in Multiple Occupation (HMOs)
We have launched a Call for Sites to run alongside the issues and options public consultation.
A Call for Sites gives landowners and agents the opportunity to propose land for development or redevelopment as part of the Local Plan update.
Call for Sites forms can be downloaded from the consultation documents. For more information about Calls for Sites, view our consultation FAQs.
Frequently asked questions and answers to accompany the Local Plan Review issues and options consultation 2023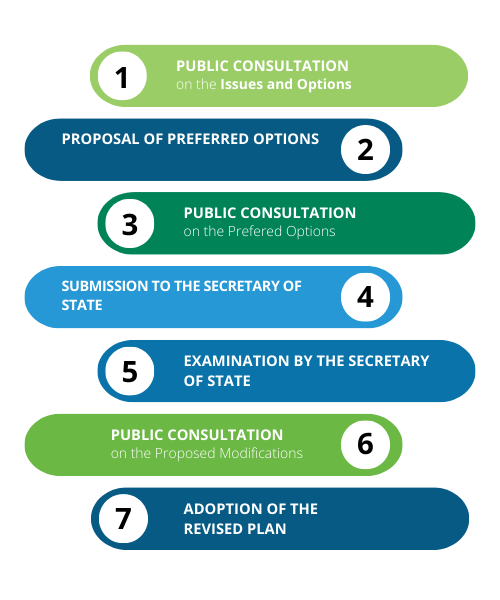 To support the public consultation, we have arranged a number of consultation events where you can drop-in and speak to council officers about the issues and options.
Online events
The following events take place on Microsoft Teams:
Community events
The following community events will be held.
| Date | Time | Location |
| --- | --- | --- |
| Tuesday 14 November | 4pm - 6pm | Cawston Community Hall, Scholars Drive, Cawston, Rugby, CV22 7GU |
| Thursday 16 November | 4pm - 6pm | Brownsover Community Centre, Bow Fell, Rugby, CV21 1JF |
| Tuesday 21 November | 4pm - 6pm | Dunchurch Village Hall, Rugby Road, Dunchurch, Rugby, CV22 6PN |
| Tuesday 28 November | 4pm - 6pm | Rugby Art Gallery and Museum, Little Elborow Street, Rugby, CV21 3BZ |
| Monday 4 December | 4pm - 6pm | Brandon and Wolston Village Hall, Main Street, Wolston, CV8 3HJ |
| Wednesday 6 December | 3.30pm - 5.30pm | Wolvey Village Hall, The Square, Wolvey, LE10 3LJ |