First Rugby Diwali celebration lights up the town 
First Rugby Diwali celebration lights up the town
A first ever town-wide Diwali celebration took to the streets on Sunday (5 November), with thousands of residents coming to Rugby town centre to celebrate the Hindu, Sikh and Jain festival.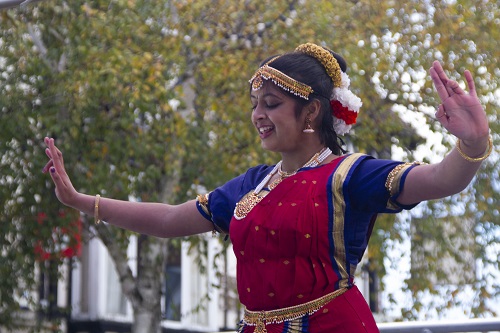 Organised by Rugby Indian Communities with support from Rugby Borough Council and Rugby First, the free Light It Up event took place on Sunday 5 November, with a stage in Market Place hosting entertainment presented by BBC Asian Network's Bhav Parmar.
The festival of light winning over darkness was symbolised with a lantern parade. Other traditional Indian celebrations included Bhangra dancing, drumming of Indian Dhol drums, street food, and Mehndi body art.
The Mayor of Rugby, Cllr Maggie O'Rourke, who led the countdown to the switch-on of the Diwali lights, said: "I was truly honoured to attend the first every Diwali celebration in Rugby town centre on Sunday.
"It was an amazing event with thousands of residents joining in the celebrations and the parade of light around the centre.
"Thanks to all who made this a reality and I do hope that this will become an established annual event in our town centre."
Cllr Ish Mistry, who organised the event with the Rugby Indian Community and who is Deputy Leader of the Labour Group on Rugby Borough Council, said: "It was an amazing Diwali Celebration enjoyed by over 2000 people present.
"Indian communities have been waiting for long time to come together in the town centre.
"The dancing, singing, food and colourful procession with Lanterns and Rangoli boards created a great atmosphere.
"My thanks to all the performers, volunteers, Rugby Borough Council and Rugby First for making it possible to stage such a wonderful event.
"I want to wish everyone a Happy Diwali."
Cllr Derek Poole, Leader of Rugby Borough Council and Leader of the Conservative Group, said: "The town-wide Diwali celebrations were a vibrant, colourful and inclusive display involving residents of all ages.
"I thoroughly enjoyed the day, especially the children's parade, and want to thank everyone involved."
Cllr Jerry Roodhouse, Leader of the Liberal Democrat group on Rugby Borough Council, said: "The event brought light into the darkness and communities together.
"It was a happy occasion which families enjoyed. My thanks also go to the organisers."
Diwali takes place on Sunday 12 November.